Today I'm co-hosting with
Jana
&
Maegen
for The Creative Closet to show off our color blocked outfits! A super fun linkup to check out every week, especially if there is a certain week that you want to try incorporating into your wardrobe! Check the bottom of the post to see the full month's prompts! I can't wait to see Octobers schedule, and link up!
When I was choosing this outfit it wasn't too hard, because I only have one piece of clothing that is specifically color blocked- this blue and black top. Which I l-o-v-e.
Plus, wearing this top gave me an excuse to wear these gorgeous royal blue shoes that I never wear! They're pretty tall, but I mean, seriously, they're beautiful. I can't get rid of them!
Plus- I got them from Kohls, for like $20! The brand is Rock and Republic… or is it Rock N Republic? If you're a Kohls fanatic, like me, you know exactly what I'm talking about. If you don't shop at Kohls, you are missing out! I mean, they have a Lauren Conrad Line, a J Lo Line…. And don't get me started on all of the things they have for your kitchen, because we're talking about clothes here.
Seriously, you need to go.
Top: Jennifer Lopez (for Kohls) | Skirt: Mossimo (Target) | Shoes: Rock n Republic (for Kohls)
Now let me see your color blocked outfits! I know you've got them, and I need more ideas on how to do color blocked! Also- here is more information on the Creative Closet and what you can look forward to next week!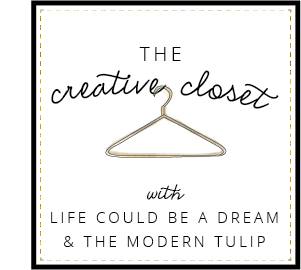 The linkup will go live every Tuesday at 12 am EST. Bloggers will be able to submit their take on the week's prompt. We hope you'll use this linkup to get creative with your style, make friend's, inspire and be inspired, and grow your blogging community. We're so thrilled you want to link up with us!
Here are the rules: 
1) Follow your hosts and the week's co-host (first 3 links)
2) Visit and comment on 5 other blogs–don't just share your link and run! That's no fun. Remember to be an encourager! :)
3) In your blog post, share either The Creative Closet button or a link back to this post on your blog.
Optional, but oh so recommended:
4) Share your look on social media using #thecreativecloset